May 12, 2021 08:53 AM Central
BONITA W. SHELBY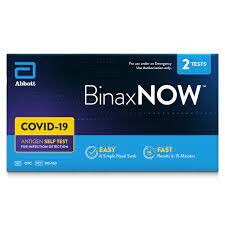 Complementary is a word I know and live from. Abbott Labs CEO explains how this would work in this short video...The long awaited, to be accepted and promoted, Rapid Antigen 'At Home/Self' Covid-19 Test is available now in some Walgreens, CVS and Walmart stores for Over The Counter (OTC)/no prescription required purchase. Currently, it is at a higher price point but as more manufacturers come on board, the hope is that the price will decrease to an affordable amount. Even better, if employers, schools, large sports venues purchase them for their employees, students and patrons, they could be free to those and other populations.
Please note: The swab is low reaching - you DO NOT put the swab high up in your nose as some of the medical Covid-19 tests many have experienced.
As the Abbott Labs box says: Easy A Simple Nasal Swab Fast Results in 15 Minutes
Expect great things and do them by God's grace and for His glory!
Bonita Shelby