Read | Write | Spell Well Tutoring
Students across the USA are suffering from not being able to read at their grade levels.
In the USA, only 35% of 4th graders are reading at their grade level! What???
That means 65% are NOT reading at their grade level!
The problem starts in Kindergarten and if not addressed at this grade level, it progresses to higher grade levels. And it has, across the USA!
This can't be real! It is real and has been real for many years! The pandemic just blew it up even more and forced us to see what was really happening and take decisive action NOW!
Please see below articles, a podcast and a short trailer about the 'The Problem' moving toward 'The Solution':
THE SOLUTION
The Science of Reading model of teaching reading is a major key to help students progress from learning to read to reading to learn and live well.
I became aware of the problem in 2021. As a Reading Tutor, I have been learning, perfecting and applying the Science of Reading model since then.
I, and my colleagues, have seen major improvements in the confidence, reading skills and reading grade levels of the students we've tutored!
There are eye opening comparisons showing the differences between students receiving the Science of Reading based tutoring and those who did not receive reading tutoring. The differences are impressive and encouraging!
I am an eternal student, informational/non-fiction reader, stickler for legible handwriting and correct spelling, and novice writer.
Read | Write | Spell Well Tutoring (RWSW) was conceived because of my daily, one-to-one reading tutoring experiences with students from Kindergarten to 8th grade.
I was a Literacy Lead for Reading Partners/Americorps from 2021-2022 and an Ignite! Certified Tutor from 2022-2023.
The experiences have tremendously impacted me and the students I've tutored.
The RWSW program expands beyond reading into handwriting and spelling. The helm is reading with supports for improving handwriting and spelling.
Reading is self-care because we must read to effectively walk out life. We must progress from learning to Read, Write and Spell Well, to leveraging Reading, Writing and Spelling to learn and live well!
I'm tutoring students from Kindergarten to 3rd grade who are struggling to improve their reading skills and/or reach, maintain or advance their reading grade levels. Sessions can be one-to-one or small groups of two, in-person or remote.
Time is of the essence! A brief, free initial consultation is the first step.
Click here
to schedule your 15 min. consultation to discuss how we can help your student to bridge the gap! The tutoring sessions include a friendly, short assessment for placement.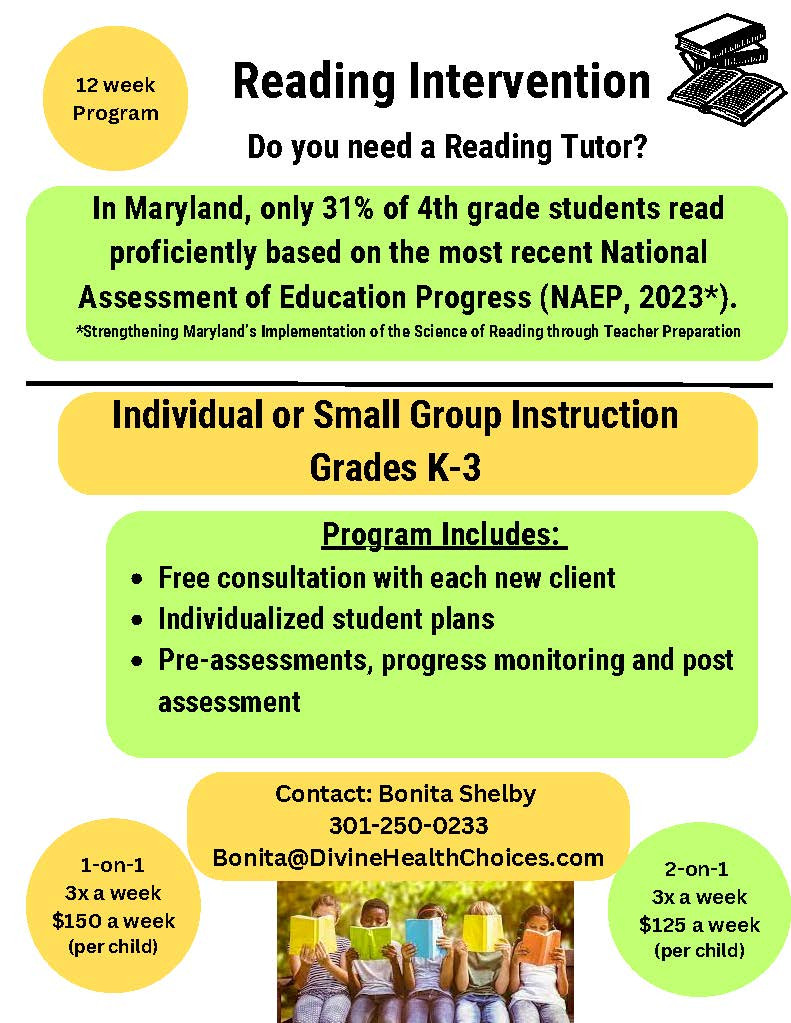 To enlarge the flyer, click on it or spread it open with two fingers.
Bonita Shelby
Science of Reading-based Literacy Tutor
Read | Write | Spell Well Tutoring
Because Reading is Self Care!
301-250-0233 text or call