May 20, 2020 09:54 AM Central
BONITA W. SHELBY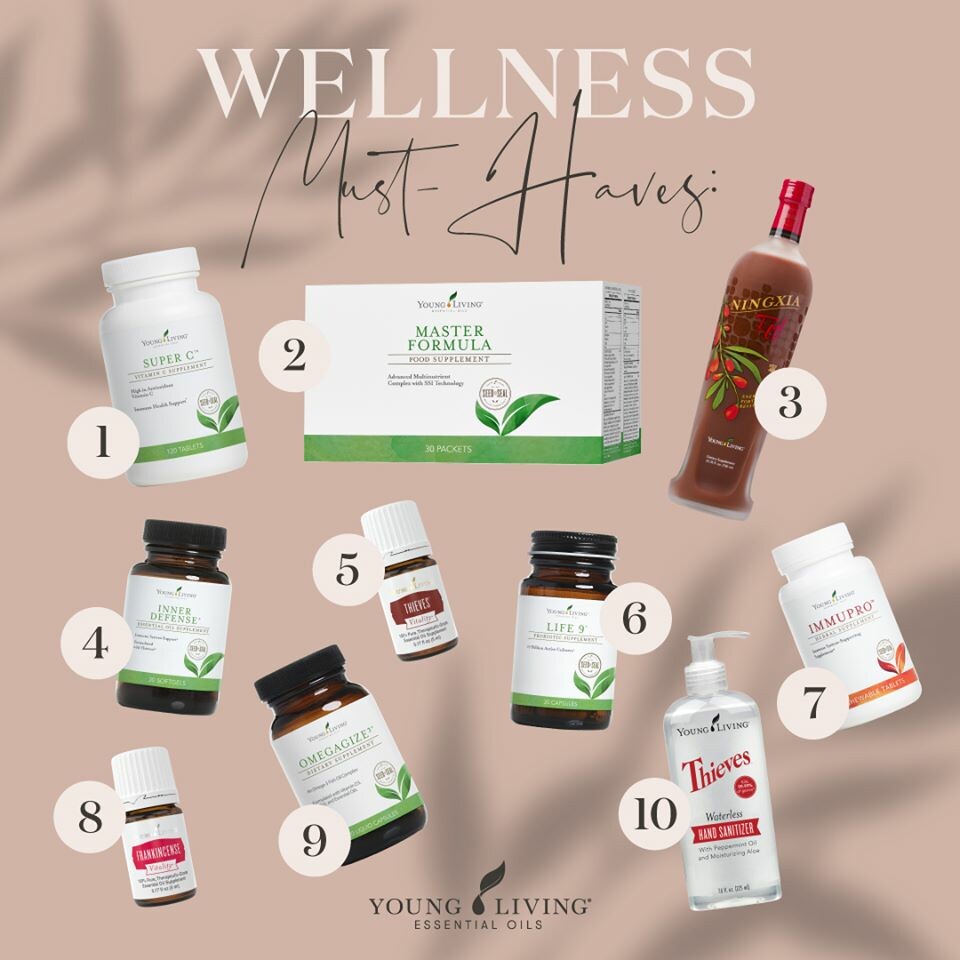 The info below is from Young Living's Training and Education Page on Facebook! Guess what? It's aligned with our first Zoom presentation next Wednesday ~ Body Systems Basics: Simplifying the Miracle. At the end of it, we will share a brief summary of some Young Living supplements that are for supporting our body systems and many of these are on the list! Even better, many of these are staples for me! How cool! Please look out for email announcing the Zoom presentation...
In the meantime, this is great info to empower yourself...
Ten Wellness Must Haves!
Keep your body functioning at its best with these TEN Wellness Must-Haves!
Super C Chewable
You need to consume Vitamin C every day because it's a water-soluble vitamin, meaning your body does not store it. Vitamin C is crucial for your health and can help support your immune system!
Super C combines pure Orange essential oil with a proprietary blend of camu camu, acerola cherry, and rose hips fruit powder to create a powerful immune-supporting supplement. Together, these premium ingredients deliver desirable polyphenols, carotenoids, and optimal amounts of vitamin C in a convenient chewable tablet. Chew Super C for an excellent source of vitamin C and manganese with the added benefits of calcium, zinc, and antioxidants. The vitamin C in this product is from the Acerola cherry (Malpighia glabra) fruit extract, Camu camu (Myrciaria dubia) whole fruit, Rose hip (Rosa canina) fruit powder and calcium ascorbate.
Master Formula
When your body has adequate vitamins and minerals it can give the immune system the daily support it needs. Master Formula™ is a full-spectrum, multinutrient complex, providing premium vitamins, minerals, and food-based nutriment to support general health and well-being.* Collectively, these ingredients provide a premium, synergistic complex to support your body.*
Master Formula includes antioxidants, vitamins, minerals, and other foodbased nutriments. These ingredients help neutralize free radicals in the body and naturally support overall health and wellness. Simply take one sachet, which includes 3 capsules and 1 caplet, daily!
NingXia Red
NingXia Red benefits include support for energy levels, normal cellular function, and whole-body and normal eye health. A daily shot of 2-4 ounces is all you need to enjoy the benefits.
Ningxia Red is a must-have supplement, all year round! NingXia Red® energizes, fortifies, and replenishes the body and mind thanks to a variety of powerful ingredients. Infused with Lemon, Orange, Yuzu, and Tangerine essential oils, NingXia Red® is a delicious daily supplement that includes juices and extracts from superfruits such as aronia, plum, blueberry, pomegranate, and—best of all—exotic Ningxia wolfberries.
Inner Defense
Inner Defense contains potent essential oils such as Oregano, Thyme, and Thieves® (one of YL's top essential oil blends). These oils are rich in constituents such as thymol, carvacrol, and eugenol for immune support. Lemongrass, Lemon, Eucalyptus Radiata, Rosemary, and Cinnamon Bark essential oils are also included in this amazing supplement. What does Inner Defense do? Inner Defense may help reinforce systemic defenses, helps create an environment that is unfriendly to yeast and fungus, and promote healthy respiratory function.* It's the perfect supplement for any time of year you wish to support your healthy immune system!
Thieves Vitality
Thieves Vitality™ was specially formulated so that you and your family can enjoy the benefits of Thieves essential oil internally. Warm and spicy, Thieves Vitality can provide daily comfort in a cup of tea, but this synergistic blend of oils also combines to boost overall wellness and support a healthy immune system. Full of antioxidant properties, this blend can also be cleansing to the digestive system.* To use, add a few drops to a veggie capsule and take daily, combine in your favorite warm beverage, or add a drop under your tongue as needed.
Life 9
Life 9 is Young Living's proprietary, high-potency probiotic. Probiotics directly support your gut, which is where around 70-80% of your immune system is housed. This product delivers 17 billion live cultures from 9 beneficial bacteria strains for full-spectrum gut support. It promotes healthy digestion, supports gut health, and helps maintain normal intestinal function for an overall healthy immune system. Life 9 has a specially designed delayed-release capsule which makes the bacteria available only when the capsule hits the intestines. Each bottle contains 30 capsules, making it perfect to add to your monthly order!
ImmuPro
Immupro was formulated to provide exceptional immune system support when combined with a healthy lifestyle and adequate sleep to support the body's needs.*
This power-packed formula combines naturally derived immune-supporting Ningxia wolfberry polysaccharides with a unique blend of reishi, maitake, and Agaricus blazei mushroom powders to deliver powerful antioxidant activity to help reduce the damaging effects of oxidative stress from free radicals.* It also provides zinc and selenium for proper immune function* along with other chelated minerals, which emerging science suggests are more easily absorbed by the body. Often times we forget that sleep supports overall wellness, which is why melatonin is included-- encourages restful sleep by promoting the body's natural sleep rhythm.*
Frankincense Vitality
For centuries, Frankincense has been used for it's powerful properties. Frankincense was traditionally chewed by ancient Middle Eastern travelers during long journeys to clean teeth and distract from hunger when food was scarce. Frankincense Vitality™ essential oil carries a rich, sweet, woodsy flavor and contains naturally-occurring properties that can help support overall well-being and a healthy immune system when taken internally.* TO use, add Frankincense Vitality into a warm cup of tea, add to a veggie capsule, or simply put a drop under your tongue!
OmegaGize
OmegaGize combines three core supplements into one: omega-3 fatty acids, bioidentical coQ10, and vitamin D3, which are all important for the body to maintain its vitality. OmegaGize3 works to support general wellness because it offers special, targeted support for normal brain, heart, eye, and joint health when is taken daily.*
Thieves Hand Sanitizer
It has been said that the simple act of hand washing with soap after using the restroom can reduce respiratory infections by up to 25%. Thieves Hand Sanitizer is the perfect product to help keep your hands clean and fresh while on the go. Infused with soothing aloe and the cleansing properties of Thieves essential oil blend and Peppermint essential oil, Thieves Waterless Hand Sanitizer effectively eliminates common, harmful germs and bacteria—it kills 99.99% of germs. As a bonus, this lightweight formula leaves hands soft and smells divine. Take it with you everywhere!
What are some of your wellness must-haves?
*These statements have not been evaluated by the Food and Drug Administration. This product is not intended to diagnose, treat, cure, or prevent any disease.
I make Divine Health Choices.
I practice Next Level Self Care.
Expect great things and do them, by GOD's grace and for His glory!
If I can help you in any way, reply or use the Contact Me button on the blog web page or

the # below

for text.