Oct 19, 2022 06:25 AM Central
BONITA W. SHELBY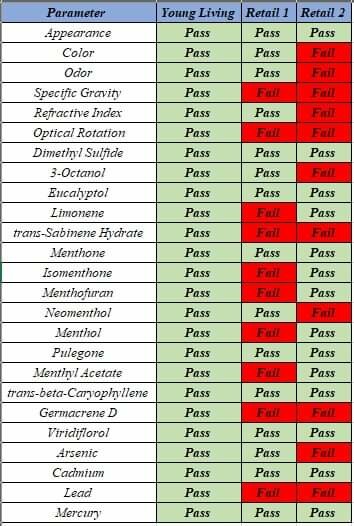 Warning: long, science based (but informative) post
Science based article below is from a Facebook post of one of our YL Science Guys:
Chris Bowerbank YL aka
Chris Bowerbank, PhD
Director, Analytical Science R&D
Young Living Essential Oil
Seed to Seal Science Pillar Question of the Day
Q: Does Young Living test essential oils from other companies?
A: Yes. Young Living R&D periodically purchases essential oils that are for sale at retail stores, online/Internet stores, etc. to help us understand and evaluate the quality of products available on the market, and to confirm our position as the World Leader in Essential Oils. We test the oils in our R&D and Quality Control (QC) laboratories and compare the results against both our #youngliving #seedtoseal quality specifications and an authentic Seed to Seal essential oil standard.
For example, we purchased two #peppermint essential oils from different retail brands. The first bottle was labeled as mentha piperita, "100% pure essential oil", and "GC/MS tested". The second bottle was also listed as mentha piperita, for aromatherapy use, and an "essential oil blend".
What we found:
▪️ Both samples failed several peppermint specifications
▪️ Retail 2 sample failed aroma testing
▪️ Both samples failed high for lead content
▪️ Retail 2 sample failed high for arsenic
▪️ Both samples likely included adulteration with corn mint
Your takeaways:
▪️ GC/MS testing alone is not indicative of essential oil quality
▪️ Heavy metal testing is an important quality test
▪️ An essential oil purchase should not be based solely on price
▪️ Seed to Seal results in quality products supported by #laboratory #testing
Did you know that our Young Living Quality Control laboratory conducted over 315,000 tests on our essential oils in 2021? We #testandverify every lot of #yleo premium essential oils to ensure you can trust every bottle. #WeAreYL
Chris Bowerbank, PhD
Director, Analytical Science R&D
Young Living Essential Oils
"Your body is either trying to survive or flourishing" (Unknown Author)
Are you cooperating with it or not???
7 Pillars of Next Level Self Care
1. Clean Air 🌬️
2. Clean Water💧
3. Real, Good Food🍉
4. Deep, Restful Sleep💤
5. Moderate Intensity Activity👣
6. Balanced, Harmonious Emotions❤️
-->7. Seed to Seal® (Real) Essential Oils🌿
Next Level Self Care = Radical Self Care
Thank you for reading! Have a comment or question?
TEXT or CALL ME
301-250-0233
"We Must Find a Way to Look After One Another": King TChalla / Black Panther / Chadwick Boseman
Expect great things and do them by God's grace and for His glory!
Bonita Shelby
32+ years of life after breast cancer
20+ years of Next Level Self Care
Young Living Essential Oils Brand Partner #530304
*1. These statements have not been evaluated by the Food and Drug Administration. These products are not intended to diagnose, treat, cure, or prevent any disease.
2. I am not a Doctor.
3. Results may be different based upon your body.