Jul 27, 2022 07:01 AM Central
BONITA W. SHELBY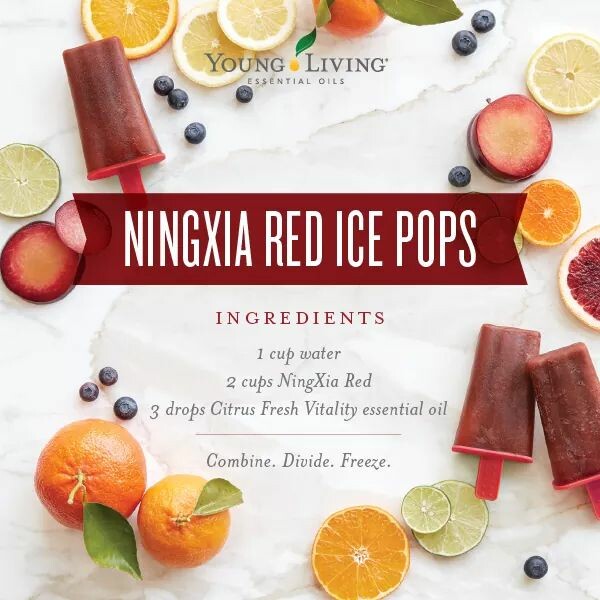 ...making clean water (#2) interesting, nutritious and purposeful plus other choices...
Purified Water with:

NingXia Red
a YL Vitality Citrus single oil or blend
YL Vitality Drops
Red Juice (NingXia Red, Sulfurzyme & Lime Vitality)
NingXia Greens
Power Meal
Inner Beauty Collagen
Hot Cacao with YL Orange Vitality
Lavender Lemonade (hot or cold)
see NingXia Red Ice Pops recipe
Other yummy combos

Green Tea with organic unfiltered apple juice, Orange & Clove YL Vitality
Organic Pineapple Ginger Juice
Jun Kombucha (non alcoholic option)
Ginger Beer (no sugar option & is non alcoholic)
Turkey Bone Broth
still exploring other options
"Your body is either trying to survive or flourishing" (Unknown Author)
Are you cooperating with it or not???
That is all!
7 Pillars of Next Level Self Care
1. Clean Air 🌬️
-> 2. Clean Water💧
3. Real, Good Food🍉
4. Deep, Restful Sleep💤
5. Moderate Intensity Activity👣
6. Balanced, Harmonious Emotions❤️
7. Seed to Seal® (Real) Essential Oils🌿
Next Level Self Care = Radical Self Care
Thank you for reading! Have a comment or question?
TEXT or CALL ME
301-250-0233
"We Must Find a Way to Look After One Another": King TChalla / Black Panther / Chadwick Boseman
Expect great things and do them by God's grace and for His glory!
Bonita Shelby
32+ years of life after breast cancer
20+ years of Next Level Self Care
Young Living Essential Oils Brand Partner #530304
P.S. Young Living has moved to our new, state-of-the-art Shopping Platform so please be gracious for any hiccups you may experience. Contact me as needed!
*1. These statements have not been evaluated by the Food and Drug Administration. These products are not intended to diagnose, treat, cure, or prevent any disease.
2. I am not a Doctor.
3. Results may be different based upon your body.