May 5, 2021 09:26 AM Central
BONITA W. SHELBY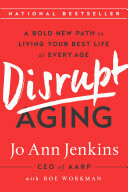 You may have heard the myths and may have even adopted some of them as truths for your life. There are many but let's consider these three...
Myth: The body and mind starts to break down once you reach a certain age.
Truth:
A good part of what people consider aging is not aging at all. It's disuse.
Herbert De Vries, PhD
Solution: Use it or lose it! Your body and mind were made to move and engage.
Myth: Gray hair makes you look old.
Truth:
Gray hair does not always make you look old. The hairstyle is another story though. Bonita Shelby
Solution:
Gray hair sets you apart from the crowd and makes a statement. Try it, you may like it and it's definitely freeing! Experiment with hairstyles to get your preferred look.
Myth: Ageism only affects the elderly.
Truth:
Ageism can affect anyone at any age from young adults to mature adults to the elderly.
Solution
: Consider how you think about and what you expect from the various generations, that may be a form of ageism. The book Disrupt Aging by Jo Ann Jenkins, Chief Executve Officer of AARP, breaks it down
...check it out.
Expect great things and do them by God's grace and for His glory!
Bonita Shelby