Apr 7, 2021 09:41 AM Central
BONITA W. SHELBY
Moderate Intensity Activity is # 5. of the 7 Pillars of Next Level Self Care; a highly valued Next Level Self Care discipline.
7 Pillars of Next Level Self Care
1. Clean Air
2. Clean Water
3. Real, Good Food
4. Deep, Restful Sleep
5. Moderate Intensity Activity
6. Balanced, Harmonious Emotions
7. Seed to Seal® (Real) Essential Oils
So you're sleeping well
(see previous update)
now we can consider energy levels needed to do any type of Moderate Intensity Activity, but let's start with energy needed to do every day activities.
Are you excited to start your day? Can you bounce up and get started or do you have to talk yourself into get moving? Do you easily get tired or struggle in keeping up with evening activities? Sometimes the body cannot keep up with the mind so movement or activities are slower or less than what may have been easier or quicker at some point in life. There are pleasant alternatives.
"Since we no longer have the energy we did as kids, we have two options. We can do less or we can support our bodies naturally so we can get back at it with products like NingXia Red (lovingly called Ninja Juice by most YL kids), Super B, Brain Power, Peppermint, NingXia Nitro, and Multigreens."
"Check out the "Energy" page if you want to add a little more pep in your step naturally."
(Quoted text from our Learn, Share, Grow website, Happier & Healthier webpage)
Besides the above pic, NingXia Red is one of my (multi-purpose) staples... I don't start a day without it! #IRL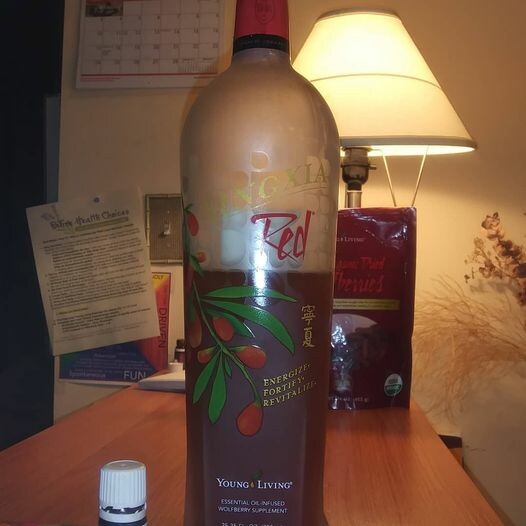 Heads up: As a recently AFAA Certified Group Fitness Instructor, I'm developing a unique, gentle program to help anyone who wants to seamlessly reach and maintain Moderate Intensity Activity.

If you have any questions, let me know.

Expect great things and do them by God's grace and for His glory!

Bonita Shelby

P.S. If this is not your challenge, please share with anyone for whom it may be.