Oct 28, 2020 09:49 AM Central
BONITA W. SHELBY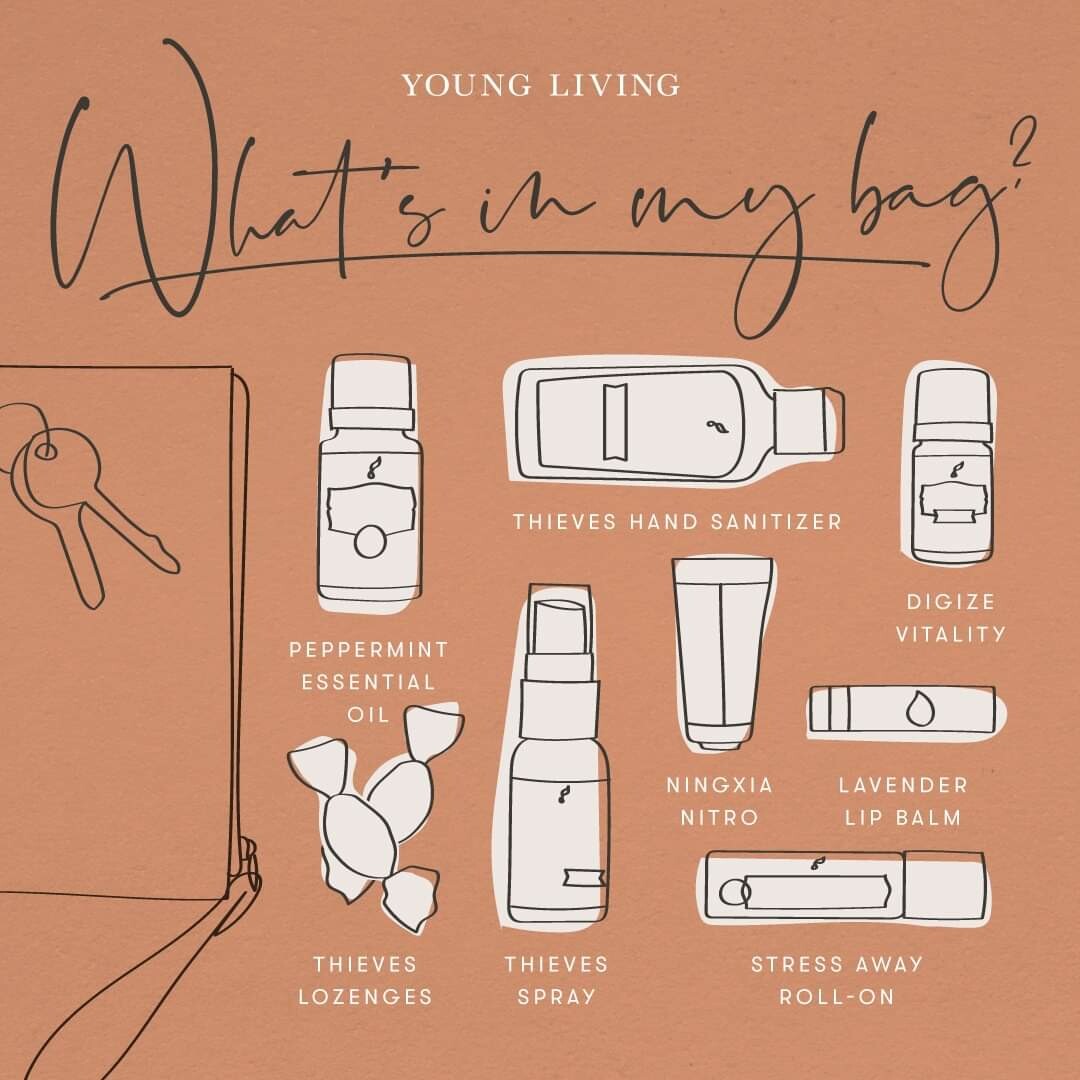 Young Living Training & Education...
Heading out for the day? Include these Young Living essentials in your bag!

Peppermint Essential Oil is an absolute staple for on-the-go. This versatile oil comes in handy for its cooling sensation and invigorating aroma. Apply topically after physical activity or across your neck and shoulders after a busy day. If you need an afternoon pick me up, use it while deep breathing. Don't forget we also love Peppermint Vitality for a quick minty breath freshener! The options are endless with Peppermint!

Thieves Hand Sanitizer kills 99.99 percent of germs without leaving behind any icky chemical residue! Formulated with powerful essential oils and plant-based ingredients, this sanitizer lightly moisturizes with aloe vera and vegetable glycerin for that baby-soft feeling. Keep your hands clean no matter where you are!

DiGize Vitality has powerful essential oils like fennel, ginger, tarragon, and peppermint, to give you that extra digestive support you may need at mealtime. Add a drop to your water or place a drop under your tongue after a large or unfamiliar meal.

Thieves Lozenges contain a blend of six therapeutic-grade essential oils: Lemon, Peppermint, Clove, Eucalyptus Radiata, Cinnamon Bark, and Rosemary. These lozenges are convenient way to pack around the power of Thieves essential oil, while also being a great option for freshening your breath. Formulated with pure essential oils and natural ingredients, instead of sugar or artificial flavoring, use Thieves Lozenges for targeted support or overall wellness.

Thieves Spray is a portable essential oil spray perfect for cleaning small surfaces without having to rinse. Its formula includes naturally derived ingredients and is infused with the powerful spicey-citrus scent of Thieves essential oil blend. Use it to spray down shopping carts, handles, doorknobs, light switches, toilet seats, steering wheels, or any other surface while you are out-and-about!

Ningxia Nitro is the perfect quick morning or afternoon pick-me-up without the sugar or caffeine overload. Next time you find yourself thinking you need some coffee or caffeine, instead reach for a Nitro! Infused with essential oils, botanical extracts, D-ribose, Korean ginseng, and green tea extract, NingXia Nitro supports alertness, as well as cognitive and physical fitness.*

Stress Away Roll-on is a delicious smelling blend of copaiba, lime, cedarwood, vanilla, ocotea, and lavender essential oils. Apply this oil on your wrists during occasional chaotic or hectic times, or simply as a daily perfume. It smells divine and has a comforting relaxing aroma.

No one likes having dry lips! That's why Lavender Lip Balm is a must have for your bag! It soothes dry lips by harnessing the power of Lavender essential oil and the moisturizing properties of jojoba oil and vitamin E. If Lavender isn't your fave, check out our other flavors: Grapefruit or Cinnamint!

What are some of your Young Living products for on-the-go?

*These statements have not been evaluated by the Food and Drug Administration. Young Living products are not intended to diagnose, treat, cure, or prevent any disease.
Expect great things and do them by God's grace and for His glory!
Bonita Shelby